Doubly Troubled: A Ringer Review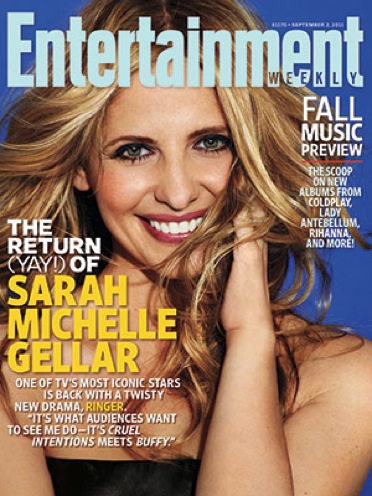 Emmy winning, Golden Globe nominated, Sarah Michelle Gellar is one hell of an actress.
At least I think so.
Since the days of short-lived teen soap opera,
Swan's Crossing
, I've been an avid fan of hers. Followed her other television appearances- another soap
All My Children
and the very addictive, kick butt addiction of
Buffy the Vampire Slayer
. Watched her somewhat mediocre films,
Simply Irresistible, Cruel Intentions, I Know What You Did Last Summer, Scream 2, The Grudge, The Return
(ugh! Not her best!) and a slew of unreleased material.
Now after a long hiatus, she's returned to the small screen.
Most welcomed her with opened arms and excitement....
Cruel Intentions
meets
Buffy
eh?
Six episodes into
Ringer
, I cannot stop wincing and will likely age about ten years before the season is over.
That is, if I'm still watching!
While I do congratulate Gellar's new show on its recently announced full season expansion, I won't be so quick on cutting the celebratory cake and licking that knife's icing just yet.
The overly complicated, roller coaster drama/thriller offers more misses than hits.
Premise is simple enough- Bridget, a recovering drug addict stripper witnesses a murder and flees town to evade being killed by the murderer. Bridget goes to her identical twin sister, Siobhan for help. Suspiciously leaving behind her engagement and wedding rings in an empty prescriped pill bottle, Siobhan looks to have taken a self-inflicted dive.
With Siobhan "dead" and conveniently not having told anyone about her estranged twin, Bridget sees this as a golden opportunity- take her sister's rich, upscale life for her own.
I for one still don't get it.
There's witness protection.
Women's shelters have long since safely taken in the lonely, the abused, and the very scared.
All sorts of government funded programs could protect Bridget.
Instead she decides to insinuate herself into Siobhan's seemingly happy life.
Insert twist number 1- life is not so sweet and peachy keen!
For it seems like Siobhan too has a price on her head!
After the ridiculousness of a loopy first episode, viewers endure Bridget the Imposter enjoying the non-murderous aspects of her sister's posh Manhattan lifestyle. It includes: ogling the charming British husband, resisting the temptation of stepdaughter, Juliet's stash of drugs, goofily hiding a dead body, and keeping sex starved Henry at bay. There's also Gemma, the best friend who happens to be Henry's wife.
Let's not forget to mention the clichéd dialogue, "oh Siobhan, you're acting so differently. You've changed."
Blah. Blah. Blah.
Twist 2- Siobhan is in Paris, alive and well.
So shocking, right?
Nope.
Totally saw that coming!
"You had no right to do this to the people in Siobhan's life...Everything you've done is self serving."
In episode five, the properly titled, "A Whole New Kind of Bitch," Gemma's comments nailed the ball on the head, clearly explaining the flaws of Bridget's very selfish plan and the show itself.
For Bridget to say she's trying to help everyone in Siobhan's tangled mess is laughable.
She's clearly looking out for number one- herself!
In flashbacks, she has clearly done a great wrong to Siobhan due to her drug influenced, self-centered personality.
I'm sure we'll all too soon find out that Siobhan's grudge stemmed from a heavily intoxicated Bridget running down Siobhan's Yorkshire poodle or something else so completely unforgivable to this ice queen.
Kidding!
I think....
Much later in this same episode, Bridget pleads desperately to Gemma: "Let me be the friend that my sister wasn't."
Excuse me, but Bridget who would want a friend like you?
FYI: You're not your sister.
For one thing, you appear to be an inch shorter and no one's noticed yet. (Must be the heels I guess!)
Go get your own set of friends.
Oh that's right, you left one behind to nearly die selflessly for you.
Back in her hometown in Wisconsin, Bridget's good friend/sponsor Malcolm is busily being chained and pumped up with hardcore drugs after years of sobriety by the man wanting to kill her.
Which twin would you rather have for a friend- the one screwing your husband behind your back or the one who carelessly puts your life in danger?
Before even wanting be be that "better friend" for Gemma, Bridget ran to Henry pleading for him to do something about his angry, rightfully hurt wife.
Bridget is not a rootable character and certainly not one would call a heroine.
"Hello world! I'm flawlessly perfect and the most giant blown up photo anyone can have in their home without cringing!"
For giggling purposes, I have to bring this up!
So Siobhan has propped herself on an egotistical pedestal huh?
The "Big Head Portrait" is its own character in the show.
C'mon now, they spent the last segment of one episode wiping off the word, "whore" from it.
The very next week prominently upfront and center, it's all clean and sparkling!
In a recent interview, Gellar told the writers that she wants to kiss Nestor Carbonell who plays Agent Maschado.
Sorry, but unless she's planning on playing triplets or the actor is going to get a double too, I don't see why Bridget or Siobhan would want to make out with the FBI agent.
Oh yes....
Probably as a seduction tactic!
Duh!
That's right folks- women have to use their wares for manipulation purposes.
Didn't episode two feature Siobhan sleeping with a man to get the goods on Andrew though she is also carrying her ex-lover's child?
Plus Bridget is trying to keep her loose ends under wraps.
So why not coerce the FBI agent away with some sensual promise?
The way she came onto Henry to get him to shut up his wife...
Besides sharing the same face and fashion sense, deliberately scheming and teasing men is another common bond for these twins.
Ringer
is a complex orgy of Bridget and various male characters- new ones seeming to be added every week. We have Andrew, Siobhan's unsuspecting, somewhat naive husband, Henry, Siobhan's very obsessive-possessive lover, Agent Maschado, the determined, hounding FBI agent, Malcolm, the currently indisposed, horribly tortured sponsor, Charlie, the new sponsor….
One might think that the writers and producers are trying to perform the almighty chemistry test on Gellar.
Like a soap opera, this show is disgustingly rife with adultery themes.
Siobhan cheated with Henry and is currently overseas sleeping with other men. Apparently Andrew cheated on Juliet's mother with Siohhan. It won't be long before Andrew sleeps with Bridget, the aforementioned former stripper.
In fact, many fans are rooting for this possibility and that grits my teeth.
Attractive, kind, and generous are certainly fine qualities in a man, but if that said man is a sibling's spouse, albeit a supposedly dead one, why bother?
Add to the fact that he doesn't even know that he's being duped, it turns into a "Sleeping With the Enemy" kind of deal.
Bridget's imagination is already running scared at the thought of him finding out.
What's the big deal anyway?
She should have told him. Period. I'm sure he would have helped her out.
This secrecy is likely needed to add depth to this otherwise very soapy story.
Ugh!
I can't seem to find the enjoyment in the wishy washy writing.
Are they trying to say that there are only those two types of women?
The one who'll sleep with their best friend's husband and the other who'll potentially sleep with a sister's husband?
It's repulsive and umm..... nasty.
They are certainly crossing lines here, but then again isn't that this show's tagline?
We have only one opposition- Gemma.
Her blind, loving devotion to Henry was sweet and kind of pathetic at the same time.
She loved that man, but he didn't feel the same.
One has to wonder if he ever did.
When she simultaneously discovered the Siobhan/Henry affair and Bridget's secret, the scorning, snappish woman tried blackmailing Bridget, demanding that she sleep with her husband so that he could be caught in the act.
Ugh!
Talk about reeking of extreme desperation….
Really Gemma?
That's the best plan you could come up with?
Sex as the answer?
Oh a sex clause in the pre-nup really explains it all!
Sigh.
Another woman who isn't using her brain intelligently on the show.
Just when she realizes that it is indeed a stupid idea, Gemma's gone missing, possibly sharing trunk space with the man Bridget shot in the very weak pilot episode. By knowing such vital information, no way would Gemma leave her yet to be seen onscreen twins with an unfaithfully, shallow Henry.
That in lies yet another twist- Henry bleaching away bloody walls and picking up pieces from a potential crime scene.
Maybe Gemma accidentally knocked over that shattered vase, somehow cut her hand, and just smeared it all over the wall because she couldn't find a band-aid?
Naw.
Murdered is a wise assumption for an otherwise predictable yet trying to be unpredictable show!
But I'm hoping that the fiery redhead is still alive.
That she killed a hitman, dumped his body into a shoe closet, and is on the run ala Bridget style.
One can only dream!
So the men are keeping busy.
Andrew is always in his office, Henry is struggling writing his book (when not sneaking around with his best friend's wife and cleaning up weird crime scenes!), Agent Maschado and his partner are actively trying to bring down the murderer, and when not being forced back into doing drugs, Malcolm aides the weak into getting back on their feet.
Which is why Gemma's loss is such a tragedy.
She was quite an inspiring woman- business wise.
Though she had a privileged background, she was a successful, sought out architect. When seen actually doing some work, she looked downright happy about it!
There's also Olivia, Andrew's partner, who keeps things brewing in the office. Determined, strong- willed, and powerful, she too enjoys and relishes in her success, though shared with Andrew. Sadly her downfall is that it's very clear in the first two episodes that she desires Andrew- a married man!
Surely there are scores of men in Manhattan who would kill for someone like her.
Yet she wants Andrew?
This beautifully impeccable Brit can do so much better!
As for the twins...
Conceited Siobhan is used to sitting inside a luxury Manhattan apartment scheduling spa treatments, opera shows, therapist visits, and sex sessions with Henry. The secretly alive woman is now in France plotting all sorts of mysterious mayhem, including what appears to be the planning of her own sister's demise. Not necessarily a job, but anything to keep those pretty hands busy I guess....
Her sister isn't any better.
Unemployed and sober Bridget wears expensive designer clothes and carries around large purses while running around NYC to cover her muddy tracks. She also nosily pries further into her sister's private matters, including withdrawing every last dollar from Siobhan's private bank account and seeing her divorce attorney for reasons unknown. She looks good and pampered without having to lift a well manicured finger, that is whenever she's not staring and thinking about that blasted gun every few minutes!
One almost wishes that she would revert to stripping just so that she could have an actual job and make us women feel empowered.
Not!
But doesn't she have other ambitions besides playing spoiled Siobhan?
Probably not unfortunately.
But she did declare to Gemma (before her untimely disappearance) that she doesn't plan on posing forever!
Psssh, I'll believe it when I see it!
Seriously, how many seasons of this do they really have mapped out?
Now onto Juliet- the uncontrollable, rich brat with huge Daddy issues.
With an episode titled "The Poor Kids Do It Everyday," one cannot help but be offended. Juliet's complaints about public school are damning, but I'm sure other kids in her situation feel the same. Openly making fun of people like me, a person who actually had this kind of education, I'm trying hard not to take this on a personal level.
Sigh.
A new subplot unfolded in this last episode- elements of the student and older teacher forbidden romance- another relationship taboo!
So obvious. So overdone. So not needed.
It's television, but would still never be accepted in the real world.
Grossly inappropriate and unprofessional no matter how attractive these people are or how well played their lust derivative stares.
Seeing as Juliet's already a former drug addicted girl who dresses like a complete slut (when Bridget isn't advising her not to) she will keep on going down the wrong path.
Thank God we have Bridget to save her from more destruction, right?
Perhaps our blond not so heroine can stop Juliet from banging her teacher.
Well, at least before she turns eighteen!
Juliet also finds herself being bullied her first day. With her snobby, uppity attitude, I for one cannot feel sorry for her and wonder if other viewers feel the same.
Alas
Ringer
is primarily, "The Gellar Show," a project in which she doubly stars and executive produces. No doubt in my mind that maybe one of these days she'll likely write and produce an actual episode.
That is if the show lasts long enough.
I am quite proud of her for adding variety to her abundant resume, but hopefully, she'll venture out into arenas that don't necessarily have her name in the centered spotlight.
Her acting is decent enough and I won't berate her weight, but the show just has to get better. Using twist after twist as a safety net isn't enough to garner my attention.
Also one must note that the overuse of music can be a bit harsh and unappealing.
Weeks ago, I laughed aloud when someone tweeted, "#Ringer stop using music as a band aid!"
It's so unbelievably true!
Yes, I admit in enjoying some of these songs, even going as far as promoting the artists. One surely can bob their head and shout, "cool track," but it's another thing when wincing and screaming, " Seriously! What the bleep is going on? This show is a bleeping joke!"
Main point is- editors should keep in mind that the show is only 44 minutes. Music should enhance a scene, not be it! Viewers aren't trying to watch a music video. Sheesh!
Overall analysis of the
Ringer
so far- Siobhan and Bridget are both missing a couple of screws, Henry is a jerk, and Andrew needs to be sterner on reckless Juliet.
More importantly, I feel that it's truly a sad day when one wants to learn more about the men on the show (like Agent Maschado and Malcolm) and less about the women.
Worse when it's just two women and one actress playing them.
As for the
Ringer
ads, decipher them, I'm done trying.....
Divinyls, "I Touch Myself" anyone?