Mr. Norman Rockwell, Pleased To Finally Meet You!
Best architecture in the city of Dayton goes too....
Atop of Grafton Hill, sits a beautiful, classically red bricked tower of cascading stairs that seems to have escaped from a M.C. Esher work. A remarkable piece of Dayton history, the Dayton Art Institute is a museum that once featured an amazing art school that taught great artist friends like Virginia Burroughs and Willis "Bing" Davis.
With incredible exhibits continuing to come to one of Dayton's most impressive treasures such as 100 Years of African American Art: The Arthur Primas Collection, Creating the New Century: Contemporary Art from the Dicke Collection, and From Romance to Rifles: Winslow Homer's Illustrations of 19th Century America, Norman Rockwell is no exception.
Having recently opened November 12th, I went five days later, on a Thursday, when they closed at eight PM.
This was what happened that day.
True story- when I reached the top, those grand epic stairs were closed.
No way was I walking back down!
Carefree and adventurous, I jumped over the short metal chain and made my way...
One minor snag in the art sightseeing venture.
I was starving.
Most unfortunate.
Not planning on viewing the newly opened Norman Rockwell Exhibit on an empty stomach, I ordered light lunch fare from the DAI's Café Monet- a delicious, crispy gooey panini grilled two cheese sandwich and sweet, cold lemonade topped with fresh lemon slices.
After devouring a pleasant meal outside by Leo the Lion, I was ready for Mr. Rockwell.
As an opening act, rare footage black and white photographs of his modest home/studio in snowy Massachusetts and humorous captured moments of family life were displayed. One got the sense of what kind of personality this famed illustrator had.
He certainly seemed a jolly fellow.
Not sure if he would enjoy having tofurky and steamed vegetables at my house though.
Plus, this may sound very shallow, but Rockwell was pretty handsome.
I loved his hair.
And of course the way he rocked a paintbrush is nothing to sneeze at!
"The post is the greatest show window for an illustrator. If you did a cover for the Post, you had arrived."
I suppose truer words have never been spoke, Mr. Rockwell, especially in your case.
Oh, his paintings....
ASTOUNDING!
What more can I say?
I was utterly floored.
Rockwell's work up close and personal was enlightening and just very, very beautiful.
How can one not be amazed by such illustrious talent?
Words fail me!
Certainly wasn't the plan to consider commercialism versus fine art politics, but throughout the exhibit, I thought: fine artist.
Highlights:
1927's
The Law Student
.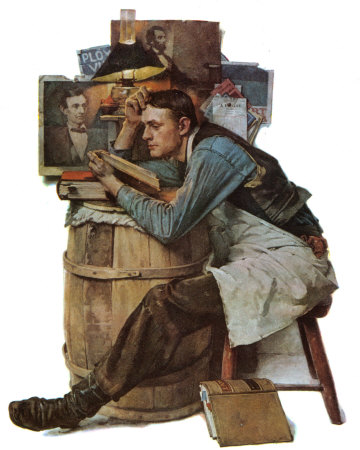 Diagonal, his body creating an active triangle shape, a young lad takes front stage of the picture plane.
He is obviously of poor disposition- clothing and shoes appear well worn.
But look at all of those books!
Deeply immersed, our law student is inwardly focused on reading/studying amongst framed portraits of Abrahan Lincoln, an impressive lawyer who eventually became the sixteenth President of the United States.
Rockwell not only showcases the desire to learn and the devoted idolization of an inspirational figure, but also a passion to lift oneself up from so low a class.
Anyone can climb the mountain.
Yet it takes persistence, hard work, and undeterred dedication!
Rockwell's painterly technique is absolutely marvelous!
Mesmerized and in awe by thick, glossy chunks of oil paint on the man's vest, parts of his hair, and the book in his hand, I longed to touch him or gently take one of his many books. He certainly wasn't real, but Rockwell breathed a magical essence into this character. A life captured in a poignant photographic snapshot, this was impeccably flawless in terms of hyper-realism and subject matter.
Another thing to note, in most of Rockwell's nostalgic illustrations, he creates figures portraying specific actions related to the time period. They are almost always either at quarter's profile view like this fellow, have their eyes averted from the viewer, or have their backs turned.
1960's
Triple Self Portrait
Rockwell has created many self-portraits.
Most focused on the frustrations of creating a new cover idea.
His easel features clippings of Albrecht Durer (one of my favorite artists!), Rembrandt Harmenszoon Van Rijn, Pablo Picasso, and Vincent Van Gogh to inspire a nearly blank canvas. The attempts of mimicking all four of them in the mini black and white sketches had me laughing aloud.
It was simply an unexpected history lesson.
Imitation is the most sincerest form of flattery, but Rockwell certainly has his own particular approach to classical realism.
The warm, earthy tones of his palette make flesh golden and rosy with life, fabrics appear soft and comfortable, and objects emerge three dimensionally, elements of the trompe l'oeil effect at work.
With little minor objects from a period of classicism and elements of American patriotism amongst the work station, let's not forget to mention that the image being painted on the projected canvas is not exactly what Rockwell himself sees in the mirror.
Haha!
A man after my own heart.
Deadlines?
Ah, they suck.
But getting older.
Who wants to?
What do I also see in this piece?
Lies.
Omissions.
Half-truths.
The real, cold hard truth.
A most humorous situation, the anxiety of satisfying the canvas is a rather complex story that all can understand and began to fully appreciate.
1955's
The Art Critic

Very "tongue in cheek" light hearted charm.
In an art gallery of fancy framed period art, holding an easel, art book, and a magnifying glass, a young spectator (an aspiring art student perhaps?) engages a bit too closely into a painting of an elegant lady, whose expression is clearly much different than the tiny black and white page he has in his backhand.
Behind him, wine holding gentlemen in another painting are staring straight at the boy in outrageous indignation.
Ah, but the boy clearly stands in an upper crust, aristocratic fashion, in khakis and tennis shoes as if he knows every thing there is to know.
The thing is....
Books and mimicking an artist's style doesn't necessarily make one an expert.
Case in point.
Plus isn't it a bit silly that this boy is a painting being stared at by other paintings?
Catch-22 eh?
Fascinating is that the palette actually has globs.
Rockwell must have squeezed the tubes, but he had to know that that texture would get lost in translation as a magazine cover page.
Just captivating right?
One almost wanted to scrap it off and work with those colors.
Okay.
That was probably just the desperate painter in me.
Moving on...
1952's
Day in the Life of a Little Girl
is disturbing due to the boy being present so much- a whopping twelve times! While in opposition 1952's
Day in the Life of a Boy
- a girl is featured only five times.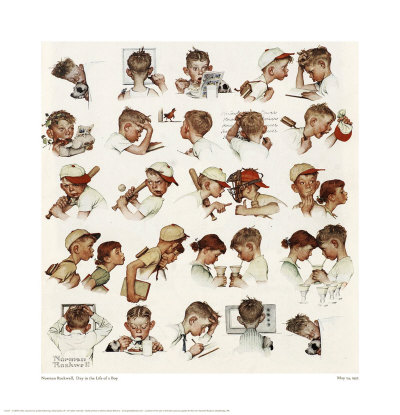 By these works alone, one learns that boys are active and full of adventure while girls are only obsessed with boys and looking "beautiful." Being a female in this society means women are meant to be glamorous objects without brains or aspirations of becoming bigger and substantial figures.
And we're talking white here.
Not black.
Not Asian.
No other minority.
Apparently, the
Saturday Evening Post
was dead set against this sort of thing.
So I admire Rockwell for getting out from behind the guards of the publication (ending a 47 year relationship due to political frustration!) and shifting towards making art not only a story for certain kinds of people, but for everyone!
By bringing social injustice and racial politics to light in the only way he knew how, here are two pieces that display a darker, more diverse narrative and how Rockwell places himself in the heart of the Civil Rights Movement.
In these shocking compositions, Rockwell paints more than happy rosy cheeked, peach faces and dreams of white suburbia.
1963's
The Problem We All Live With
from
Look Magazine.
1963 was a big year for civil rights in America.
JFK, Michael Luther King Jr., and Malcolm X gave pivotal, powerhouse speeches- the kind that moved and ultimately shaped a nation.
Segregation was coming underway, meaning black children were finally going to come into all white schools to get the same education, the same kind of treatment that had been robbed from them since they improperly arrived.
That wasn't easy of course.
Mobs of people hated the idea of whites and minorities coming together.
Rockwell illustrated those public battles of horrific outrage and showcased them for every race and creed.
Malice, cruelty, and unnecessary hatred could not be anymore apparent in this painting.
It makes one eat at their conscious, their very soul.
This is a child, someone's little girl getting objects flung at her daily and being called nasty words.
A little dark skinned girl, Ruby Bridges is her name, is walking in between four escorting faceless police officers whose fists are balled.
One wonders are they for or against desegregation.
Do they want to help that Ruby?
Or wish that she would go back to a run down, 3/4 human education that would have continued to be provided for her and so many others?
Rockwell calls out for awareness and justice.
This outcry is simply inexcusable.
The tomato fragments are fat and discarded in disarray amongst the ugly word "NIGGER" spray painted brick wall.
That one smashed fruit symbolized a bloody, immoral psychological conflict.
It's like a "boo" to a bad performer, the insult that makes one want to leave the stage and never return.
In this powerful Rockwell illustration, I saw the contempt that they went through, that pain, that agony. Ruby, the Little Rock Nine, and so many others stayed strong in the face of great evil.
To be publicly tormented just because their skin is darker than pale flesh.
To be crucified....
Ugh,
No words.
So honored and humbled to know that these children and their parents showed immense bravery.
Thank you, Mr. Rockwell for taking the time to masterfully create a piece that symbolized the fight for change and justice in America.
Sadly, however, it is still a problem we all live with.
But nobody wants to talk about or address it.
1965's
Murders in Mississippi
goes a grisly step further.
Featured in
Southern Justice
was this rather dark biography of racial malice.
One of the most compelling parts of the exhibit was another side of Rockwell that I had never seen or thought to imagine.
Displayed and framed- pencil/painted sketches, actual photographs of his son and a close friend posing and Rockwell with real blood on his shirt, detailed article clippings from the gruesome story of three companions death in a Mississippi desert, and Rockwell's own jotted notes of the tragic account.
I felt a stronger, deeper connection, wanting to touch the residue of the creative process he left behind. It's surreal that these fragments appeal so much to me, that they seem far more intimate than the paintings themselves.
It interweaves everything.
Build up excitement from reading and looking at his gathered material before seeing the actual painting itself is a wondrous experience.
It's a whole other way of learning about the artist.
There was a long list of other murders that would never be solved due to all white juries and policemen, countless black people and the benevolent whites who joined forces were murdered senselessly and without mercy.
The four girls in the church bombing, Emmett Till, Medger Evans....
How can one's eyes not water?
Everyone knows their stories.
Everyone knows that their cases will never have justice.
Rockwell's paintings say it all.
White supremacy, racism, and senseless violence without a shred of human decency, compassion, or remorse are three things that this country must be greatly aware of.
That cannot be hidden away and buried.
This is our history.
This is our legacy.
Overall,
American Chronicles: The Art of Norman Rockwell
is very fascinating and marvelously put together.
Yes.
I admit standing in front of certain pieces longer than others, but each has its own individual language, it's own context beyond
Saturday Evening Post
, especially those last two mentioned paintings which have nothing to do with that publication.
Those incredible brush strokes, that attention to precise detail, the glossy texture....
Just thinking about it makes me want to swoon.
Ummm... yes.
I also tend to collapse over art that astonishes me to the point of speechless, romanticized behavior.
Sad but true.
The Norman Rockwell exhibit also contains a very large yet intriguing painting of Ichabod Crane (from
The Legend of Sleepy Hollow
), paintings from Rockwell's days as a young artistic director of
Boy's Life
, a magazine fronted by the Boy Scouts of America, four of his freedom posters series, all 322
Saturday Evening Post
covers in frames, a large
Saturday Evening Post
backdrop where folks can dress up and take pics (ugh! Missed this part!), and a special gift shop.
Many tied in events coming up like lectures, tea tours, jazz series, and a most special event- Ruby Bridges telling her story on January 19, 2012!
I will be there to write about that once in a lifetime experience!
Woot! Woot!
So come out to enjoy great, conversational art at the DAI!
You won't be disappointed.
Dayton Art Institute is opened from 10AM to 5PM on Wednesday, Friday, and Saturday, 12PM-5PM Sunday, 10AM-8PM Thursday and closed Monday and Tuesday.
Admission for American Chronicles: The Art of Norman Rockwell is free for the first trip for members, then return trips $10, $15 for nonmembers, youth (7-17) $10, students w/ID, seniors, and active military $13, and free for children under six years old.